News
---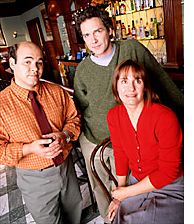 8.16.04 - Norm Macdonald will be on The Tonight Show with Jay Leno the night of Tuesday, August 16th.

1.28.04 - Variety reports that A Minute with Stan Hooper, starring Norm Macdonald, has officially been cancelled by FOX. Thirteen episodes were produced, only six aired.

7.30.03 - TV Guide Online: Norm Macdonald Back on TV - He's been fired from SNL. ABC axed Norm after two seasons. For Norm Macdonald, holding down a job ain't easy. But this fall, he returns to TV on A Minute with Stan Hooper, which has scored highly with Fox's test audiences and has good early buzz. Was the cranky comic surprised by this warm reception?...

5.15.03 - Norm MacDonald's new show, A Minute with Stan Hooper, has been picked up for the fall season by FOX, and will air on Wednesdays at 8:30pm ET.

2.9.03 - FOX has ordered a comedy pilot from Norm MacDonald called A Minute with Stan Hooper. MacDonald stars as a TV reporter moving from the big city to the country with his family.

11.12.02 - Artie Lange is set to produce and star in an NBC comedy playing a man caught between his blue-collar roots and his current life as a semi-successful sitcom star. Veteran Simpsons scribe Sam Simon is developing the project with Lange.

9.26.02 - Zap2It.com: Norm MacDonald Makes Deal with FOX - FOX has signed former "Saturday Night Live" player Norm MacDonald to be the lead in a comedy for the 2003-04 season. MacDonald, who also headlined the ABC sitcom "Norm," signed what's known as a talent holding deal, according to The Hollywood Reporter. He's agreed to do a project for the network but isn't attached to any specific one....

3.19.02 - NBC has shelved a fall comedy pilot starring Saturday Night Live grads Norm MacDonald and Jon Lovitz in an apparent dispute with producer Adam Sandler over syndication revenues, Variety reports. The potential series, titled Leave Me Alone, is now expected to be shopped around to the other networks.

2.25.02 - Laurie Metcalf has been cast in a new CBS sitcom called Families.

2.8.02 - NBC has ordered a comedy pilot titled Leave Me Alone which stars Norm MacDonald and Jon Lovitz as disgruntled roommates.

11.16.01 - Adam Sandler's production company is developing an NBC comedy starring Saturday Night Live grads Jon Lovitz and Norm Macdonald as mismatched roommates.

7.12.01 - Norm received an Emmy nomination for Outstanding Main Title Design.

6.5.01 - Soap Opera Digest: Faith Ford admits she was quite surprised when she received the offer to stay with Norm in 1999. "It was not known [if the character would return]. At least not by me. They're a [go-with-the-flow] kind of show, but we had fun when we were doing it, so I was happy when they called and asked me to come back. Besides, I think Norm [Macdonald] is really cute," she giggles. How would the actress compare working with him to sharing screen time with Candice Bergen, the star of the other series Ford is best known for, Murphy Brown? "Let's see. That show was called Murphy Brown and she was Murphy, and this show is called Norm and he's Norm," Ford laughs. "Actually, Candice is a practical joker, and Norm is a joker of sorts. Being on this show is a breath of fresh air for me because I'm such a Louisiana girl. I was not raised highbrow, and all that constant political humor [on Murphy] was just exhausting."

5.16.01 - According to ABC's official Fall Schedule, Norm will not be returning next season.

3.11.01 - "Norm" is in danger of being cancelled. If you're interested in helping to save the show, sign the petition or send letters to Stu Bloomberg, ABC, Inc., 500 S. Buena Vista Street, Burbank, CA 91521.

2.12.01 - Nikki Cox (Taylor) and comedian Bobcat Goldthwait are engaged to be married. The unlikely couple met on the set of the now-defunct WB comedy Unhappily Ever After. "I had a mad crush on him and told him so," Cox says in Gear's March issue.

2.9.01 - WB Press release: In their new Friday time periods (February 2nd), Warner Bros.' The Fugitive and norm delivered the night's highest increase vs. last week's performance among Adults 18-49 and 25-54. Norm (8:30 PM) also grew (A18-49 +29%, A25-54 +33%) despite its tame Two Guys and A Girl lead-in.

2.5.01 - With its new line-up, "Two Guys and a Girl" at 8pm, "Norm," at 8:30pm and "Millionaire" at 9pm, ABC had its strongest Friday night in 10 months, a 3.7/11 demo rating (A18-49).

12.20.00 - Fox has ordered a pilot for a new comedy from Bruce Helford starring Johnny Galecki. The show is called "Bagtime" and it's about a guy who is a bag boy at the local grocery store by day, and studying the cello and trying to get into the Chicago Symphony by night.

11.4.00 - From the Nov. 4th issue of TV Guide: "'I've been on TV so long, I've kissed everyone,' says ex-Melrose Place temptress Courtney Thorne-Smith, 'so now I have to branch off into women.' She's just kidding, of course, although there was that kiss with Calista Flockhart on Ally McBeal and, most recently, one with Norm star Laurie Metcalf. Is this one as historic as that groundbreaking lip lock on Ellen? 'Funny, hopefully,' she says. 'Groundbreaking, no.' She saves those for new husband Andrew Conrad, a genetic scientist. 'Married life is great,' she says. 'I feel calmer than I have in my entire life.'"

10.9.00 - Marilyn Beck of E!Online tells us all about Ian Gomez.

7.28.00 - TV Guide Online: Nikki Cox Figures It Out - The curvaceous Nikki Cox freely admits that the way she fills her clothes often overshadows her acting ability...

7.28.00 - Ian Gomez has joined writer/director Terry Green's indie film "Almost Salinas," and will star opposite John Mahoney, Virginia Madsen and Wade Danielson.

7.17.00 - Variety reports that ABC has plans for a new campaign to advertise the timeslot change of "Norm" to Fridays. They will be placing talking billboards over urinals in public bathrooms in New York and Los Angeles. The spots will feature the voice of Norm Macdonald cracking such thigh-slappers as "Oh my God, look at the size of that thing!" and "Hey, watch your shoes!"

7.10.00 - There is a short blurb on Nikki Cox on page 8 of the July 8th issue of TV Guide. It talks about her role on "Unhappily Ever After" and her upcoming sitcom produced by Bruce Helford.

6.23.00 - Faith Ford will be returning next season as Shelly Kilmartin and will now be a regular cast member.

5.16.00 - "Norm" will be returning to ABC in the fall in the 9pm ET Friday time slot.

5.16.00 - Nikki Cox will be starring in her own sitcom on the WB this fall called "Nikki," executive produced by Bruce Helford. From the WB: Executive producer Bruce Helford has created a new comedy imbued with the same honest, working-class sensibility that made his The Drew Carey Show an instant success, but with a sex appeal that only comes from The WB star Nikki Cox. Free-spirited Nikki (Nikki Cox, The Norm Show, Unhappily Ever After) has trained all her life to be a dancer and is anxious to start her career as a Las Vegas showgirl. Off-the-wall, unpredictable and yet down-to-earth, Nikki is a new kind of half-hour situation comedy.

1.11.00 - Max Wright was arrested Monday on suspicion of drunk driving following an accident on a Los Angeles freeway. No one was injured, but police are investigating the crash.

11.4.99 - The National Enquirer reports that the folks on the set of "Norm" prey on Norm Macdonald's fear of bugs. Seems they once put a cockroach on his shoulder, which freaked him out, so they thought they'd try to get him again, this time by putting a bunch of spiders in his Chinese food. But instead of hearing Norm scream, they didn't hear anything, because Norm didn't notice and ate the itsy bitsy arachnids along with the fried rice.

7.28.99 - Norm Macdonald is rumored to be the host for a new quiz show for ABC tentatively called "Have I Got News For You." ABC executives will not confirm or deny the rumor. The show would be a current events quiz and the pilot would film in September.

4.8.99 - "The Norm Show" is being picketed by the National Association of Social Workers. The NASW has several objections to the show, including the fact that Norm Macdonald's character (a hockey player who is sentenced to become a social worker as a form of community service after being caught for tax evasion) has no professional qualifications, engages in sexual relations with clients and frequently belittles those who come to his office seeking help. Macdonald's response, and I agree, is "It's make believe."